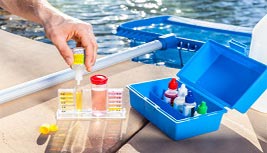 Having fun in the pool is your job…providing for your service needs is ours.
Peek Pools & Spas not only specializes in custom swimming pools and backyard living, we also provide quality maintenance services to keep your pool performing at its peak.
Swimming Pool Maintenance and Service Packages
We offer complete maintenance packages for new or existing pools and spas!
Ultimate Pool Service
Every new Peek Pool & Spa comes with a 30 day complete service package which includes all chemicals, maintenance and service needs. The Ultimate Pool Service Package can be extended for an additional monthly fee.
30 day free Ultimate Pool Service Package is included at no additional cost to every new Peek Pools & Spas customer!
Platinum Pool Service
Peek Pools & Spas offers our Platinum Pool Service Package to existing pool and spa owners. This package provides weekly cleaning, maintenance, and chemical balancing of your existing pool. Chemicals and repairs can be supplied at an additional cost. Please contact us or call 615-866-8800 to arrange a meeting and provide you with a quote.
Our Service Philosophy
There are numerous aspects to service starting with the ability to make a call to a real person that cares about the solution to your problem. Let's face it, a pool is a concert of moving parts that clean, heat and light the water and as such are mechanical parts that need servicing and maintenance. Having fun in your pool is your job…providing for your service needs is ours.
Our service department is at your service 24/7 and our scheduler will do our very best to match a time that is convenient to you. Peek Pools & Spas provides outstanding warranties for all our pools, spas and water features that are incomparable.
Our company creed requires top-notch products to be used in the construction and operation of your pool. We partner with the industry's best manufacturers to provide energy-efficient equipment to give you long-term reliability and cost savings during your pool's operation. Equipment like pumps, filters, controllers, salt chlorination systems, lighting, and cleaners all are the best available.