Peek Pools designs four of The World's Greatest Pools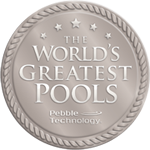 In 2018, four pools designed and built by Peek Pools received The World's Greatest Pools award.
This award goes out to visually stunning pools and environments that enhance the way homeowners experience and enjoy their outdoor space. These extraordinary backyard living spaces set the gold standard in beautiful design and quality materials. Every year, Pebble Tec awards this worldwide honor to the most stunning pools and spas using Pebble Technology products in their design and construction. Peek Pools is delighted and honored to receive these awards.
This natural pool makes you feel like you've stepped out of your house into a fairy tale with it's lovely landscaping, natural stone and unbelievable views. You could enjoy this pool from any angle, at any time of day because its beauty covers every square foot. During the day the flowers, trees and bushes add color, beauty and privacy. At night, the lights create an almost magical experience. When it gets cooler, you can still cozy up to the fire for hot chocolate and warm conversation.
Fire Pit
Waterfall
Colored Lights
Full Landscaping
Spa
Sun Deck
Bench
This is a backyard built for any occasion, day or night. Whether hosting a huge family reunion or inviting just a few friends, there's a place for everyone. The outdoor kitchen features a Big Green Egg, grill, cooktop, refrigerator, pizza oven, and plenty of seating. There's even a sunken swim-up bar for drinks and snacks. And if the evening turns chilly, there's a fireplace to keep everyone toasty while still enjoying the outdoors.
Fireplace
Waterfall
Sunken Bar
Outdoor Kitchen with Seating
Spa
Fountains
This backyard proves that you can have it all with a well designed space. It feels roomy and luxurious with a comfortable pergola beside the pool and infinity edge spa. Your friends and family can sit at the dining table and around the fireplace for some delicious grilled burgers. The pool lights and fire features make a dramatic display at night that can be enjoyed all year. Even though you might not have a huge backyard, you still have plenty of room for everything.
Fireplace & Fire Features
Fountains
Sun Deck & Pergola
Dining Area
Infinity Edge Spa
Outdoor Kitchen
This outdoor living space proves that a formal pool design doesn't have to feel stuffy. There's plenty of room for relaxing in the spa, warming up in the sun and cooling off in the water. The full-feature outdoor kitchen will make any weekend outdoors feel like a holiday. With the lights, fireplace and fire feature the view is stunning, especially at night.
Fireplace
Fire Feature
Natural Stone Sun Deck
Spa with Waterfalls
Outdoor Kitchen
615-866-8800
615-625-2560 (fax)
2526 Duplex Road
Spring Hill, TN 37174
TN License #66873