Planning your summer vacation or staycation is one of the joys of spring, especially as the world is opening up again for travel. Check out these fun, funky and elegant pools to inspire your project or getaway this summer.
Guitar-Shaped Pool
Music City's emblem has a guitar…so why shouldn't a backyard? Just ask John Rich, of Big and Rich fame, or Webb Pierce, an old-school honky-tonk singer. Both have embraced similarly shaped pools. Celebrate summer in the city with this musically inspired pool.
In-Ground or Above Ground? Yes!
This beautiful pool, reminiscent of Italy, throws the question of an in-ground or above-ground pool on its head. This rooftop pool on the 21st floor is definitely above the ground…just not as you'd think.
Kitsch is King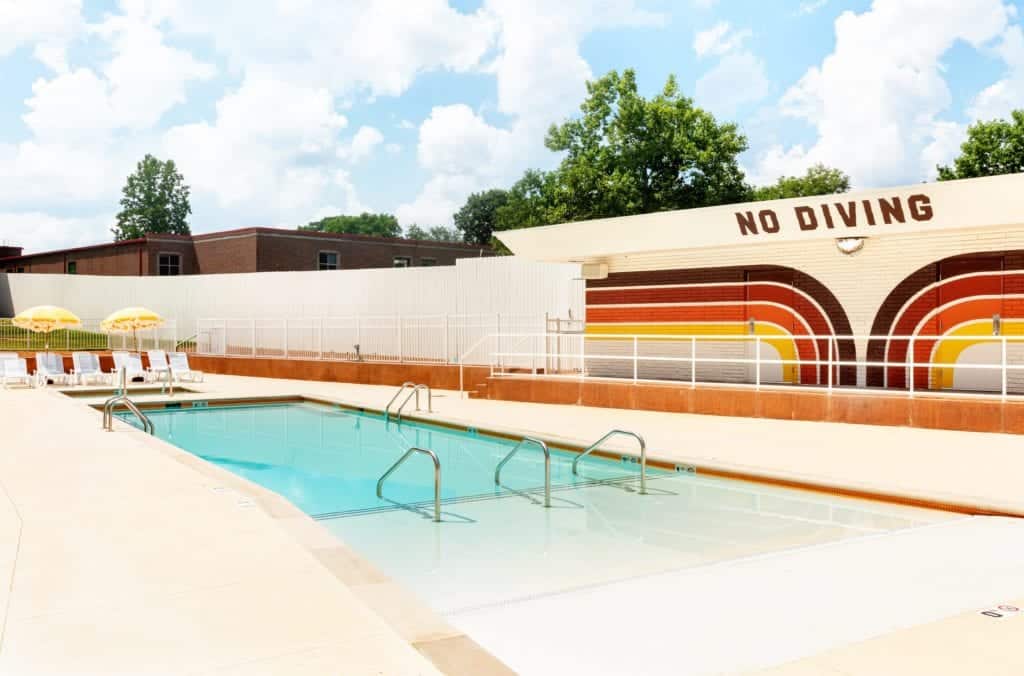 While luxury is awesome, sometimes we all want a throwback to a more simple place and time. And the Swim Club at Nashville's Dive Motel offers just that. A kitschy place with a retro vibe, this pool is simple yet nostalgic.
Levels of Living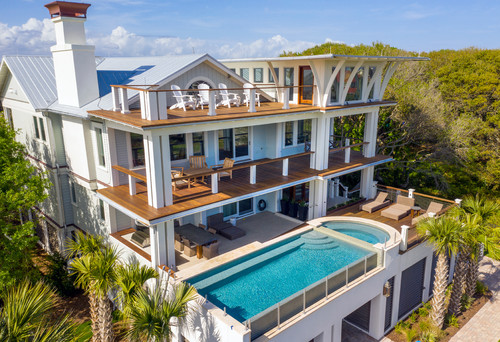 Decking need not be limited to around the pool. This grandiose house displays a fresh way to enjoy deck space and pool space without even needing a yard!
Contemporary Vibe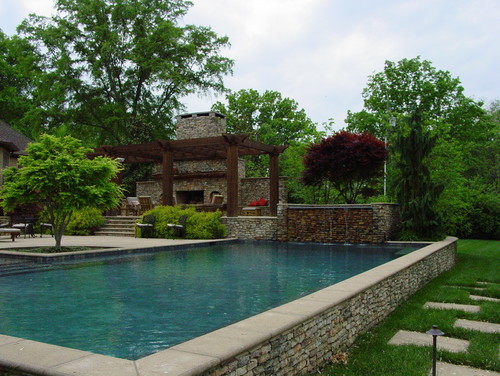 Incorporate your oasis with the surrounding nature…or build some with a great landscaping. Either way, this contemporary pool will enhance your communing with nature or neighbors and extend your living space beyond your four walls.
Go Big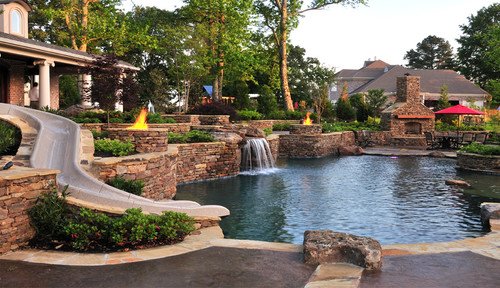 Go big or go…wait you're already home! This resort-level pool features elevated brick walls, freeform shape, fire features, a slide AND a waterfall! There are no limits to what can be built with adequate space, limitless imagination and a nice-sized budget.
Fit Your Style
Love the European feel of an old Tudor estate? Have a pool instead of a moat! Integrate sun-soaked seating with privacy and brick walls covered with ivy. There are no rules that dictate you have to have decking on all sides. Play with your environment.
Contrast Your Landscape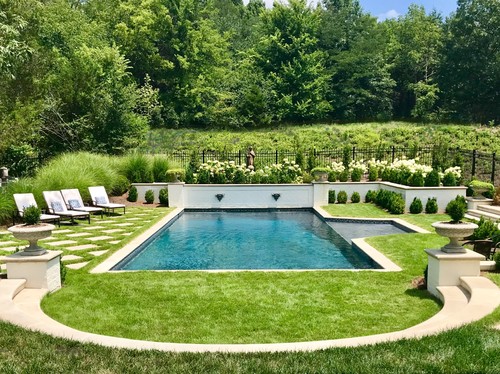 The straight lines and manicured lawn without traditional decking surrounded by the wilder, unkempt landscape makes this pool feel like it organically belongs here. It almost seems as though it grew there. The contrast between the two scenes works to bring harmony and balance to this pastoral environment.
Bring it Inside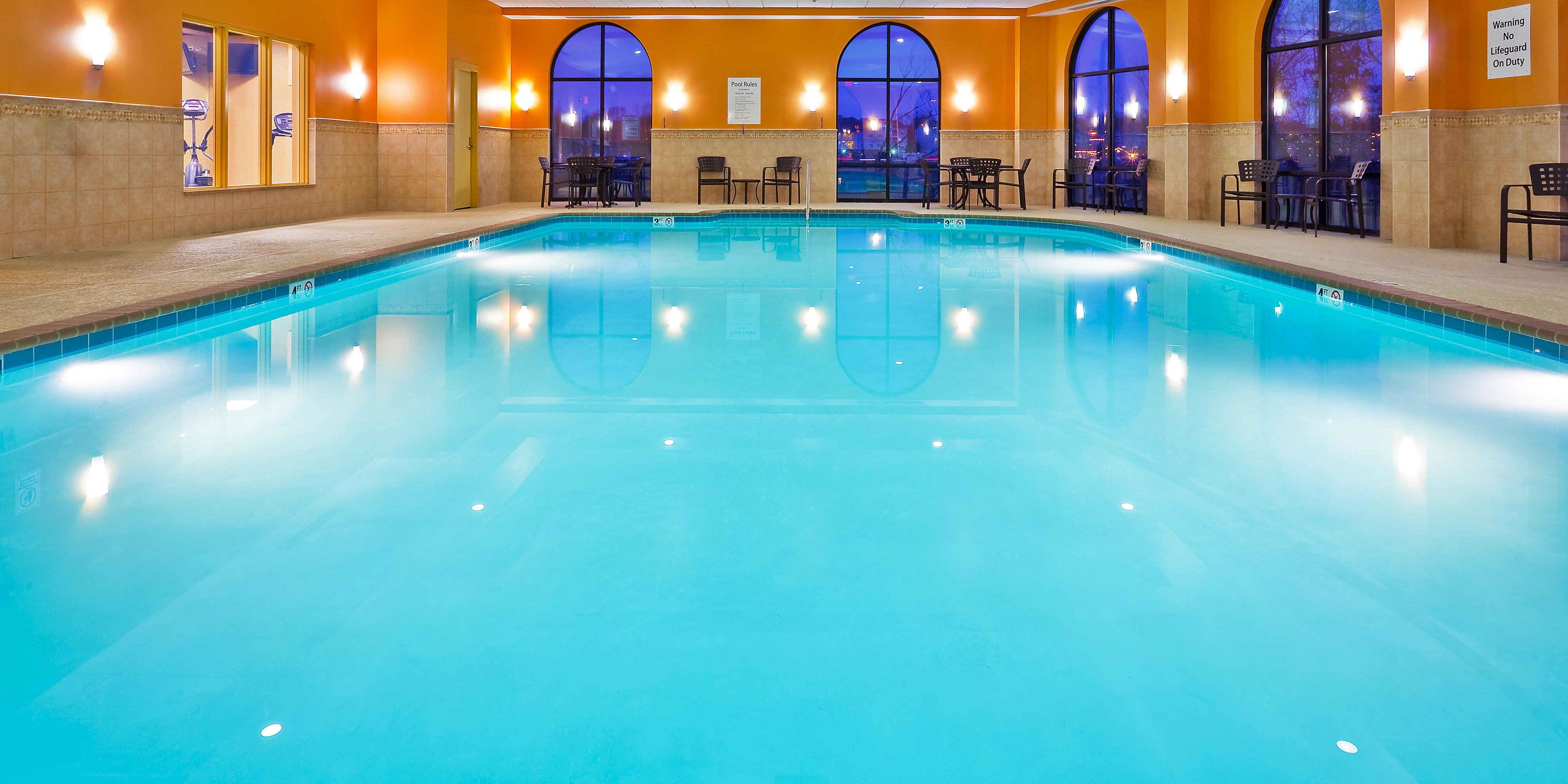 Who says pools belong outside only? Bring the luxury and relaxation indoors for year-round relaxation and fun.
Go Rimless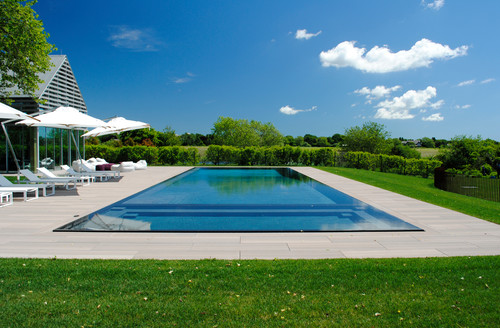 Rimless isn't just for glasses. Check out this stunning rimless pool, including an incorporated spa. Uber-modern, this pool and surrounding seating will make you slip effortlessly into relaxation.
Bring it on Home
When you're ready to bring the pool ideas and inspirations home, reach out to the award-winning creative and skilled team at Peek Pools. They'll work with you, your outdoor footprint and your budget to create the ideal pool oasis.