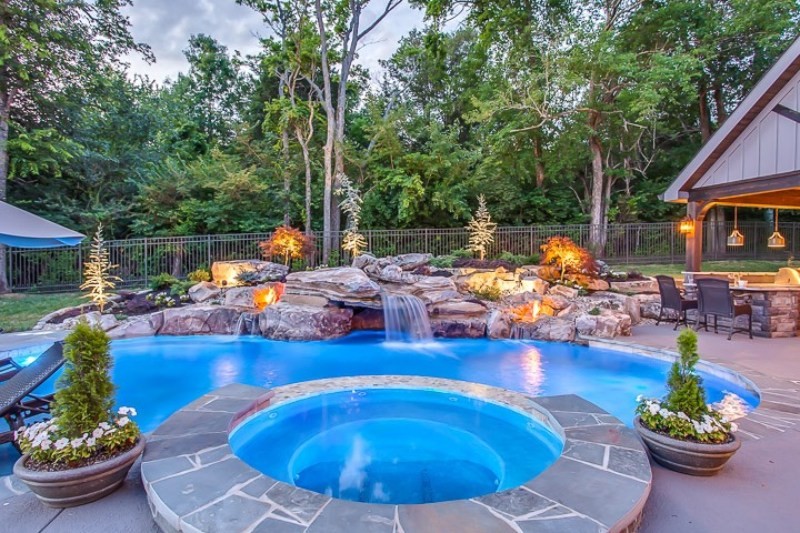 If you are thinking of enhancing your backyard with a pool or spa, Peek Pools & Spas is here to help.
Kyle and Justin Peek, the father-son duo behind Peek Pools & Spas, has more than 35 years in the swimming pool industry. They bring experience, creativity and passion to each of their projects.
Peek Pools does it all. We design and build custom swimming pools, renovate and remodel existing pools and even take care of pool maintenance and service.
When it comes to creating custom pools, the sky is the limit with Peek Pools.
Our motto is "If you can dream it, we can build it." Using state-of-the-art 3D swimming pool design software, we help you visualize your pool and spa, as realistically as possible, before construction even begins.
As every backyard is different, Peek Pools takes extra care to ensure your pool is built correctly. Our experts assess the environment for every pool and decide the best way to build it.
Every Peek Pool & Spa is properly constructed with the latest techniques. After being dug, plumbed, and rebar being placed, each pool is shot with gunite and hand carved into the proper size and shape. Each pool is a custom work of art.
The Peek family believes that anything less than designing and building the world's best pools and spas is unacceptable. We promise our customers exemplary design, superlative craftsmanship and outstanding construction.
"It all comes together in one magnificent creation. But that's not enough. Because the finest pool in the world is worthless, if it's not the pool you expected," says the Peeks.
Peek Pools & Spas has been recognized for our work with numerous awards. Most recently, four pools designed and built by Peek Pools received The World's Greatest Pools award by Pebble Tec in 2018. This award goes out to visually stunning pools and environments that enhance the way homeowners experience and enjoy their outdoor space. These extraordinary backyard living spaces set the gold standard in beautiful design and quality materials. Every year, Pebble Tec awards this worldwide honor to the most stunning pools and spas using Pebble Technology products in their design and construction.

The home improvement television industry has also taken notice. Peek Pools has been featured on HGTV and DIY, as well as, Great American Country, Animal Planet, Travel Channel and Discovery.
If you already have a pool or are looking to add other elements to your backyard, such as a spa, stop by the Peek Pools & Spa retail store in Spring Hill, located at 2526 Duplex Road, for your pool supplies and to see spa options.