Adding onto your pool area can make the space more functional, beautiful, and the perfect place to entertain. But you want to know that the right pool contractor is in charge and that the new sections will blend beautifully with your existing pool deck and landscaping.
Peek Pools and Spas is a middle Tennessee pool contractor that has designed and built hundreds of custom pools in the area. Here's what their team had to say about top considerations when adding on to your pool.
What You Need to Know About Pool Renovations and Additions
You may have purchased a property with a pool already in the ground and ready for you to enjoy. But it doesn't really fit your style, or it's in need of an overhaul to keep it a safe and enjoyable place to be this summer.
Regardless of why you're considering a pool renovation or addition, read these considerations before starting your project.
1. Think About How You'll Use the Space
Instead of just sealing or refinishing the pool, consider how you'll gather, where you'll gather, and what features might be nice to have. For example, a popular addition is a tanning ledge. This shallow area in a pool allows swimmers to get wet while relaxing and avoid the activity in the main part of the pool. It's a shallow section that might be nice for young swimmers or as a place to sip a cold beverage during a party. 
You can add a chaise lounge to the ledge for the perfect relaxation. And while you're already refinishing a pool's surface, adding such a feature would be less expensive than adding it later.
2. Think About More than Just the Swimming Pool
While the pool is the focal point for your outdoor oasis, there is so much more to the space that allows homeowners to rest and relax.
Some considerations you can make while designing your ideal space include an outdoor kitchen or fireplace. You can extend your oasis into the fall with the warmth and comfort a fireplace offers. Or just allow guests to migrate from the pool to a s'mores station when night falls.
An outdoor kitchen is a griller's dream. We're not just talking about adding a grill to the pool deck. You'll have cabinets, a sink, perhaps a mini fridge, and more to make outdoor living simple and enjoyable. While you likely won't be storing much food or cooking supplies outside where it can't stay sanitary, you'll find these amenities make enjoying your pool deck more functional and enjoyable.
3. Read Up on How Relaxing Running Water Can Be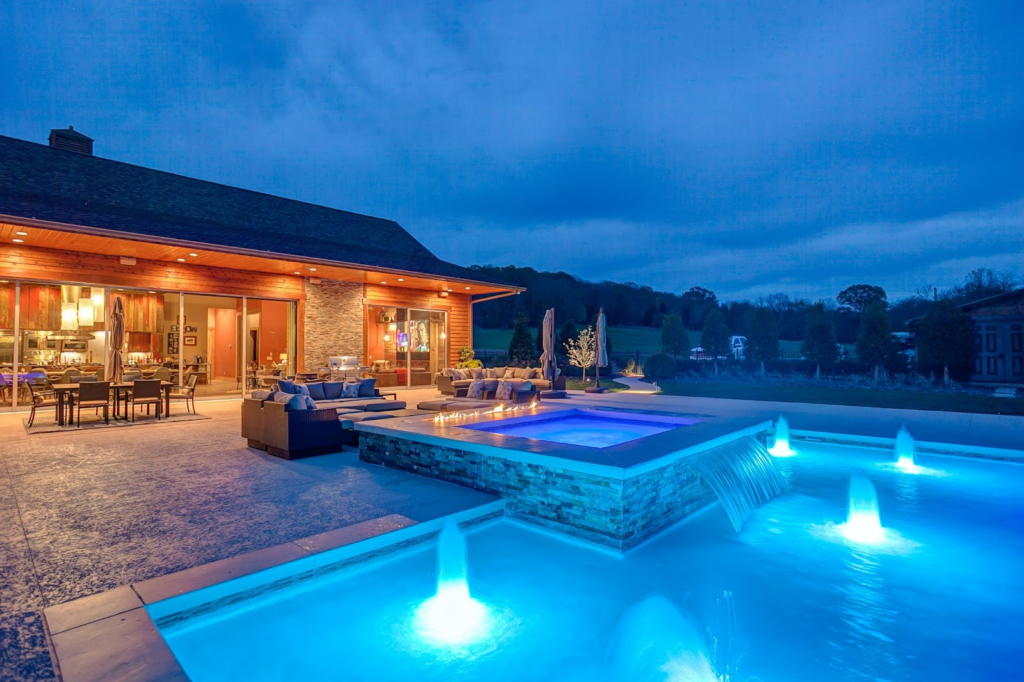 Waterfalls are not just about making the space more visually appealing – though they certainly can have that effect. Running water is naturally soothing and can aid in poolside meditations. That's because the sound of water helps guide the neuronal brain waves.
While sitting near water naturally has a calming effect thanks to the restorative effect of the color blue, adding running water can make your poolside escapes even more relaxing.
4. Decide if a Spa Might Be Right for You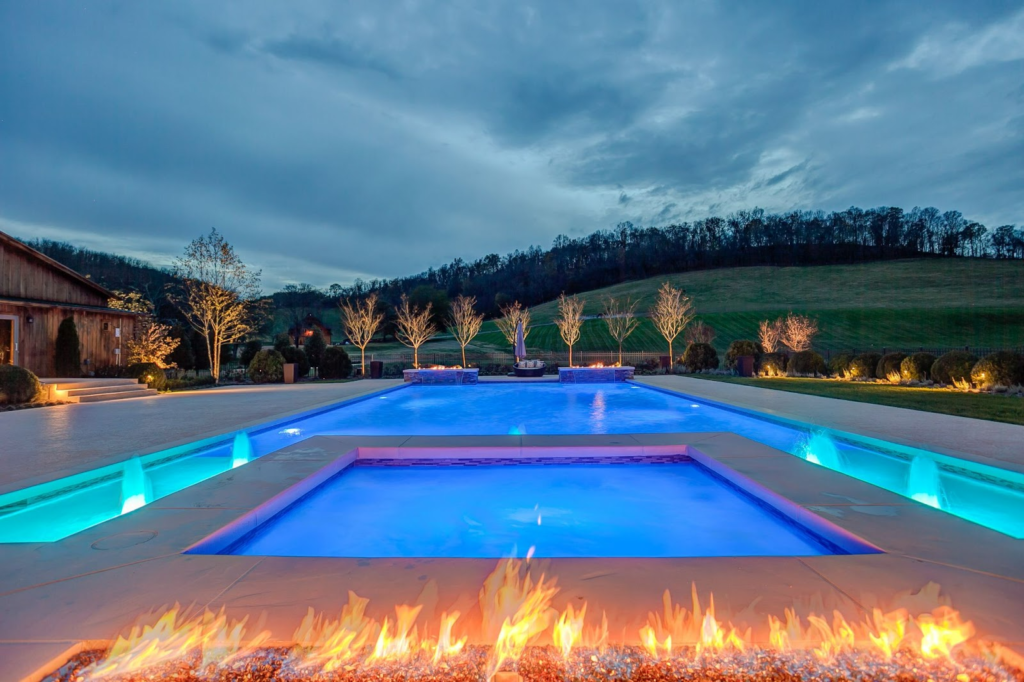 When renovating your pool, it's the perfect time to add a spa. This heated body of water is excellent for stress relief and reducing muscle aches. Spending time in a spa can also lower your blood pressure and improve your sleep. The benefits of soaking in a spa are many and worth considering if you're completing a pool renovation.
Regular dips in a spa can also improve your heart health and reduce the likelihood of developing cardiovascular disease in conjunction with a healthy diet and exercise. Just be sure to discuss the use of a spa with your doctor because there are individuals who should avoid spas, including those with epilepsy or other seizure disorders.
5. Choose Your Contractor Carefully
All pool contractors do not have the same skill sets and experience levels with various custom pool features and additions. Blending the old and the new is an art and one you'll want to be careful with as you build out the perfect pool setting.
Peek Pools and Spas has strong customer reviews and ratings on Google and is a BBB Accredited Business. With 45 years of experience designing and building pools, the skilled team is ready to make your vision a reality, whether that's an entirely new pool or renovating or adding onto an existing pool. Contact them now at 615-866-8800 or via their website.